The festival season slams reluctantly to a close once again leaving summer memories, fantastic displays of live music and a sea of discarded beer cans in its wake. Imminently, the white collar, early rising, bitterly cold 9 to 5 monotony of winter lounges itself out before us as far as the eye can see, drawing ever closer. While we trudge back into daily routines, festival companies must trawl through the battlefield where the previously unblemished rows of tents stood expectantly for the weekend ahead. Now, the only tents left behind are those too broken, too burnt or too stained by urine to be of any further use to anyone. The clean-up teams will find discarded beer crates, food packaging and a worrying amount of human excrement in their year-long voyage through hell so it can break loose once again next year. As depressing as it is that its over, I am running down a list of my personal favorite acts performing at the Reading main stage this year in this installment to enjoy a final brief moment of summer before the bastard Jack Frost yet again returns to kick my shins into winter once more. Let's whack out a stereotypical "Top 5" format shall we? I'll even do it in descending order to build tension.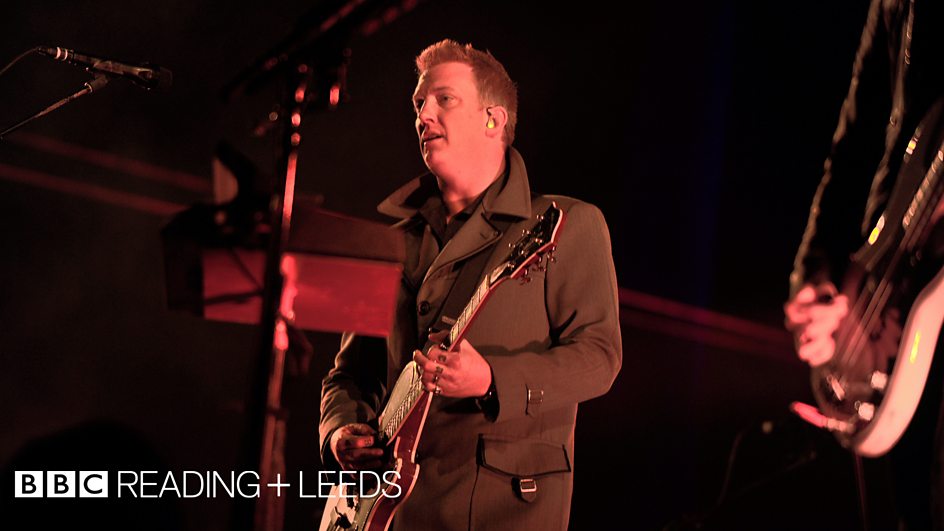 5. Queens Of the Stone Age
Headlining the renowned Reading festival for the first time in their illustrious 18-year career, the rock veterans put on an excellent 16-song spectacle to really kick start the weekend with a set featuring favorites such as 'No One Knows' alongside newer releases like 'I Sat By The Ocean'. The almost sickeningly cool Josh Homme lead a laser packed, guitar-solo-jammed performance for music fans of any age to enjoy.
4. You Me At 6
While the main stage tended to be dominated by American bands on the Sunday, the Surrey quintet flew the flag as it were for British post-hardcore rock music... I'm sure there more obscure flags to fly. Nevertheless, You Me At 6 put on an engaging show and the energetic Josh Franceschi whizzed around the stage urgin crowd surfing and mosh pits. While the more elite fans in the audience were disappointed at the lack of older songs like
No one does it better
in a
Cavalier Youth
dominated set, a major highlight was the cameo appearance of All Time Low's Alex Gaskarth to perform the bridge and final chorus of
Fresh Start Fever
to an eruption of surprised excitement. A girl in front of me genuinely burst into tears of hysterical joy upon his arrival. She must have been lost in stereo (if you can find a more obscure pun than that I'll be impressed).
3. Arctic Monkeys
It was the first time headlining main stage at Reading for the Sheffield based outfit, but that certainly didn't seem to faze the enigmatic Alex Turner as The Arctic Monkeys played an incredible 20-song, career- spanning set list. Now a national icon, the band indulged in their huge fan base, as the crowd effortlessly (and tunelessly for that matter) belted out every word of
I Bet You Look Good On The Dancefloor
and
Arabella
as casually as if they were consecutive tracks on an album.This by far generated the largest of the week end's crowds as over 40 thousand people strained anxiously on tip-toes, jostling to await the encore of
R U Mine.
2. Blink 182
Now, huge waves of bias cloud my actual judgement of the performance as one of my favourite all time bands took to the main stage in spectacular style on the jubilant Sunday evening. Not even a 6 hour- wait could deter me from getting to the front to watch the Californian trio smash their name of the long awaited list of bands I hadn't seen live. Not even a rib-crushing scrum of sweaty bodies packed so tightly it was nearly impossible to raise your arms. Nor the destruction of my shoes and phone, victims to the maelstrom of people. When the intro to
Feeling This
lit up the stage, I was off my cramp-ridden feet. It was predominantly old songs from the veterans of punk rock and the forefathers of all modern hardcore and post-hardcore groups of today pleasing their huge British fan base. Songs like
I Miss You
and
Always
were met with raucous, high pitched screams from a worrying number of men, enough to cover up Tom Delonge's ropey vocals. This did not hinder their performance as
Dammit
(featuring an extended drum solo from Travis Barker) brought the weekend to a reluctant close. with the colossal "Flaming Fuck" casting a yellow light over the crowd. Its safe to say we all departed fondly.
1. A Day To Remeber
Perhaps an unlikely favorite in comparison to the wealth of unbelievable artists at the festival let alone the list preceding it here: a moderately famous hard-core punk band from Ocala; Florida playing at one of the UK's oldest and most prestigious music festivals in a grey afternoon slot. Doesn't sound much to get excited for. Fortunately I knew beforehand that it would certainly be no bland encounter. Among the more loyal fan base at the front, a huge surge of bodies hurled themselves into one another in all directions as the set was kicked off with
The Downfall Of Us All
and the deterioration of my ribs began. They were bruised in
Right Back At It Again,
cracked after
All Signs Point To Lauderdale
and virtually disintegrated by the time
Sometimes You're The Hammer, Sometimes You're The Nail
drew to a crashing crescendo. Nobody seems to pause and think "Why are we doing this? Just running into each other in a circle, elbows flying, teeth bared. I came here to watch my favourite band and now I've lost my shoes, I'm covered in sweat and dust and I'm just gonna stand here at the side and watch the rest.". Even if anyone'd had that thought, they couldn't have exercised it as some idiot aggressively shoves you back into the chaos. It all forms part of the experience. Despite this, ADTR played a perfect set from my perspective, with songs spanning every album and causing further chaos as Jeremy Mckinnon clambered into a "Zorb ball" tumbling around the heads of the crowd all the while performing
Homesick.
As the performance slammed to a finale, I had just enough energy to produce one final cheer. We'd survived, stinky, but in roughly one piece and just witnessed one of the best live punk bands around.
So now while you return to another tedious week of school or work, you should remember that weekend. No more public urination (or consumption, but that's another story), no more vodka in water bottles, and no more staple diets of biscuits and chips. Not at least until next year...
To hear these songs, albums from the other posts and other music which I find, follow my blog on Spotify here: https://open.spotify.com/user/w-avery/playlist/4CAps4jqmlBK7LPOPFgi3T